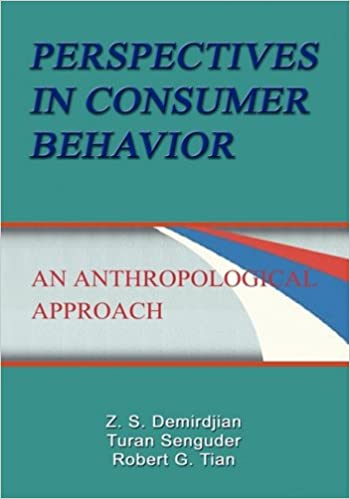 Book
by
Dr. Z. S. Demirdian
Dr. Turan Senguder
Dr. Robert G. Tian
Perspectives in Consumer Behavior: An Anthropological Approach
Review by Dr. Michael P. Lillis, Medaille College, Buffalo, NY
The primary objective of Dr. Demirdjian, Dr. Senguder, and Dr. Tian's book is to enlighten and excite readers about a growing trend towards the use of an anthropological approach in consumer behavior research and in the pedagogy of higher education. The authors illustrate how bringing contextual (i.e. social) aspects into consumer science requires an advanced methodological apparatus for collecting in-depth data on relational patters rooted in deeper structures of social behavior. The book offers a number of case studies that are used to illuminate the practical value of anthropological methods, as they suggest unique insights into the "how and why" of individual consumer behavior.
The authors suggest that current research on consumer behavior tends to offer very limited views, and therefore is of little practical value. The end result of such fragmented research is that it often times leaves major "soft" behavioral issues unaddressed or unaccounted for. With a reliance on methodological inputs from the anthropology field, the book draws attention to the value of an approach that builds upon studying organizations as a whole, with strong relationships between sets of variables at different organizational levels and to different contextual settings. As such, the authors describe consumer behavior as a social construct, replete with multiple, conflicting interpretations that can only be deciphered in the context of human interaction.
The book begins with a discussion on the evolution of anthropology in organizational research and business education, drawing attention to associated gains in our understanding of consumer behavior. Next, following a review of specific analytical techniques borrowed from social anthropology, authors highlight the significance of a cross-cultural approach to consumer behavior. Subsequently, a detailed study on customer satisfaction is used to illustrate the relevance of a cross-cultural perspective. This is followed by several chapters that demonstrate how subcultures differ from mainstream consumers in terms of their preferences for goods and services, drawing attention to the viability and responsiveness pressures of potentially unforeseen markets. The book concludes with a variety of case studies in food service, presenting a view of food consumption that describes individual choice in the context of a complex array of social elements.
The subject of business anthropology is one that has been receiving considerable attention in both academic and organizational domains. The volume, Perspectives in Consumer Behavior: An Anthropological Approach, exposes the reader to a comprehensive and strategically relevant topic, which is fast emerging as a subject of considerable scholarly discourse. Taken together, Demirdjian, Senguder, and Tian's work inspire an intense level of appreciation for methodologies that help capture the richness of social behavior. As such, this book represents a useful "how to" guide for both the business practitioner and the educational professional on how to put into practice an anthropological approach. Moreover, it represents a useful resource for anyone looking to understand the significance of the social environment in individual choice behavior.